I feel like I've prefaced every monthly gratitude post recently with a note that it's been a hard month.  Once again, though, it has been.  My Prostap injections have stopped working – my doctor thinks this one was a dud – so I've been dealing with a solid month of pain accompanied by a really icky cold (lots of lovely mucus – yay!).
I think this makes it even more important that I take a moment to stop and think about the things this month that I am grateful for.
1)  Cake!
I successfully baked three really nice cakes this month.  One was a packet mix, so I can't be too proud of it, but seriously, if you want a deliciously moist, rich, vegan chocolate cake, just add a can of Coke to the stuff in Betty Crocker's Devil's Food Cake and bake it, and voila, instant deliciousness.
I also made this funfetti cake from It Doesn't Taste Like Chicken.  Unfortunately, my sprinkles vanished into the cake and just left little blobs of yellow behind, but the cake itself was delicious, and I'm really proud of the rainbow icing.  Sure, it has some holes in the bottom layer, but it's the first time I've ever tried to get fancy with buttercream, so I'm proud of myself.
My third cake was for my mother's birthday, and was the tastiest of the three.  I used this incredible, zingy lemon cake recipe from Lazy Cat Kitchen.  I cooked it slightly too long but it still turned out really well – very soft and fluffy on the inside and soaked in sweet lemony flavour.  Definitely a "make again".
2)  Basketweaving
My workplace celebrated Reconciliation Day last month by holding Aboriginal basketweaving classes for employees, taught by an Aboriginal woman who travelled out on country to learn the techniques and is sharing them with us.  It's really relaxing and it's nice to have something to do with my hands when I'm watching tv or listening to an audiobook.  I'm trying to make a basket for Max, which is a little tricky because he is a) fat and b) prone to eating the materials I use, but I'm pushing through.
3) Max is ok
Last month I wrote about how Max had to have dental surgery.  He's all recovered from that now, but gave me a scare this month when I found blood in his urine.  After a rushed vet visit and some medication, it turns out he probably just had sterile cystitis, and is back to peeing normally (i.e. not on all my nice blankets) and no longer in pain.  That's a huge relief.
4)  A good boss
Chronic illness is terrifying, particularly when you love your job and want to earn the respect of colleagues you admire through hard work, but have to take off unreasonable amounts of time due to situations like my current Prostap issue.  I am still super stressed about it, but less stressed than I would be if my amazing boss wasn't so good about this whole poopy situation.
5) Fulfilling a goal
One of my three goals this year was to read the Old Testament.  I have officially finished it.  I'll admit, it mostly wasn't thrilling.  The prophecy books (Isiah, anything after Jonah) are mighty confusing unless you have some reference material to explain what the heck they are talking about.  Lots of doorways getting measured and people dying of famine and then everything getting better and people being happy again.  I really enjoyed the books with strong female characters, though – Ruth, Esther, the early parts of Judges – and some of the books, like Lamentations, have some truly beautiful imagery.  There's a lot of good stuff in Psalms and Proverbs, too.
Anyway, I'm proud of finishing it.  I'm on track to fulfil Goal 2 (getting SCUBA certified) next month, even if I'm doing really poorly with Goal 3 (learning Arabic).
6) Pretty dresses
This month has been all about the comfort clothes.  Maternity jeans, turtlenecks, flowing trousers.  Today, I realised I haven't worn an item of clothing just because I love it for a very long time, and that makes me sad.  So, I made an effort, grabbed one of my absolute favourite dresses (pictured above), and wore it just because.
7) Clean water
It's a simple thing to be grateful for, but it's so important.  Clean water is one of the greatest guarantees of health (in terms of freedom from things like cholera, anyway, if not from endo) and is vital to sustaining life.  It also tastes good.  If I'm thirsty, I can just turn on the tap.  People in Flint in the USA still don't have clean water after years of complaints, and that is in the very developed world.  People in other parts of the world have to walk for miles to get water, and today I literally bathed in litres of it.  A few weeks ago, I went for a swim in a 50m pool.  That's more water than some people will ever see.  Even in Australia, animals and people suffer every time there is a drought.  Clean water is something we cannot take for granted or be sufficiently thankful for.  Clean water is life.
8) Assassin's Creed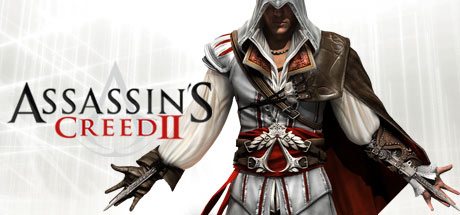 I finished the first Assassin's Creed game some time last year after literally years of procrastinating, and I loved it.  This month, after slightly less time, but still a lot of procrastinating, I finished the second one.  The first one sees you play an Assassin in the Middle East during the Crusades; in the second, you are in Renaissance Italy.  Both games are heaps of fun and absolutely stunning.  Seriously, the detail that goes in to creating the huge cities that these games are set in makes them worth playing even if you don't want to stab lots of bad guys and save innocents from corrupt guards.  I so badly want to go it Italy now.
9) One year
I've been writing this blog for one whole year now.  I've been up and down with it – it's really hard when I'm not well, because my motivation and creativity take a big hit – but I have stuck to it.  I have more than 100 followers, and I'm super grateful to each and every one of you.  I can't tell you how happy it makes me when I see someone like an article.  Please keep on liking and sharing, and let me know in the comments if there is any particular content you want to see more of.  I want to keep this blog relevant to the experiences of people with endo, adeno and chronic pain, and it really helps me to know what people want to read.
10)  Today
Sundays are really difficult for me, because I spend a lot of time stressing about how I'm going to get through another week, and how exhausted I will be when I have to get up at 6am, and whether I'll even be able to fit into my clothes tomorrow.  Today I woke up especially depressed and I kept getting worse.  However, I managed, largely thanks to my husband, to pull my socks up (actually I wore tights, but whatever), put on my pretty dress and do my face and hair, leave the house, breathe some fresh air, buy the vitamins I've been neglecting, and eat some good food and drink some delicious hot apple cider.  It was really, really hard to actually do that, but I did.  I'm proud of that.
What are you grateful for this month?  Have you baked anything delicious lately?  Share in the comments.