Warning: contains lots of spoilers
It's been quite some time since I shared a terrible movie with you, dear readers, so I'm going to do it again. This is one you really need to know about.
First, watch this trailer. Admire how the vibe goes from "sinister, terrifying ocean monster" to "giant shark comedy!"
The movie itself is a bit like that, although it isn't quite so starkly divided down the middle.
I originally watched The Meg on the flight back from the UK in November last year. I also watched A Quiet Place and Get Out because I was trying to do a little horror/thriller fest. Boy, did I misjudge things with The Meg.
I thought it would be terrifying. I have thalassaphobia, so the thought of deep water with low visibility petrifies me, as do giant squid drifting through the gloom. Whilst I'm not scared of sharks in the same way, I do have a healthy respect for them, and the only time I met a shark in the actual ocean I did literally pee myself out of fear. I was under water, though, so I think the impact was lessened. I found Jaws to be scary. I'm also scared of prehistoric sea creatures, like the liopleurodon, and yes, the megalodon. Anyway, I thought that this movie had a really promising combination of things that terrify me. On paper, it was my worst nightmare.
In practice, not so much. The bottom of the ocean was charmingly illuminated by phosphorescent wiggly things and submarine lights, and because nothing could really come up from underneath them (my biggest fear about the ocean is things being beneath you) the first part of the movie lost some punch for me. There was also the utter implausability of the whole "how the megaladon survived" theory. The first death was touching but there was no terror. There was no submarine sneaking through the dark. It was just a "mysterious" large creature smacking into things and causing mechanical failures for a very long time, twice.
Enter the grizzled hero (Jason Statham) and the absurdly pretty Li Bingbing as his love interest and badass marine biologist. She does an impulsive thing, probably because WOMEN don't listen to MEN and nearly gets eaten by a squid but then she learns that THE MAN is right and a tender romance blossoms, because nothing is hotter than being told you're wrong and then being saved from a squid (notably by the megalodon, not Jason).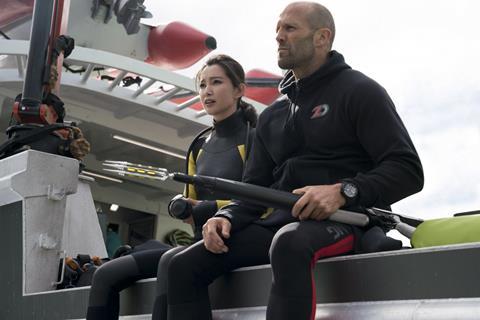 There's this whole backstory about how several years ago, Jason Statham was on a rescue mission for a submarine which had been attacked by the meg, which nobody except him believed, and he had to leave some people to die, and the doctor who certified him as mentally ill after that is now on the deep sea research station that discovers this megaladon . Other people continue to contradict or not believe Jason Statham, and the movie sort of ends up as a weird giant-shark-infested parable about why you should always believe Jason Statham, even when he's positing that prehistoric giant sharks are attacking submarines.
Things get a little scarier in the next part of the movie when the folks move back onto the partially-submerged hi-tech deep-sea research station and the shark nearly kills Li Bingbing's daughter (in addition to her other badassery, she's a single mother). Then a couple of whales get eaten and I cried a little. Lots of whales die in this movie.
The crew the resolve to rid the earth of this giant shark. There are some boat-based shenanigans, then some shark-cage shenanigans where Li Bingbing shoots the shark in the mouth then nearly gets eaten, then Jason Statham swims around and snatches her from the Jaws of death (see what I did there?), the shark dies from the poison on Li BingBing's shooty spear, and everyone celebrates.
Then another megaladon leaps from the ocean and eats the carcass of the first one.
Not joking.
Meg 2 smashes the boat the matchwood, kills or seriously injures a number of people, including Li BingBing's father, then swims to a Chinese holiday resort, crashes a wedding and tries to eat some tourists.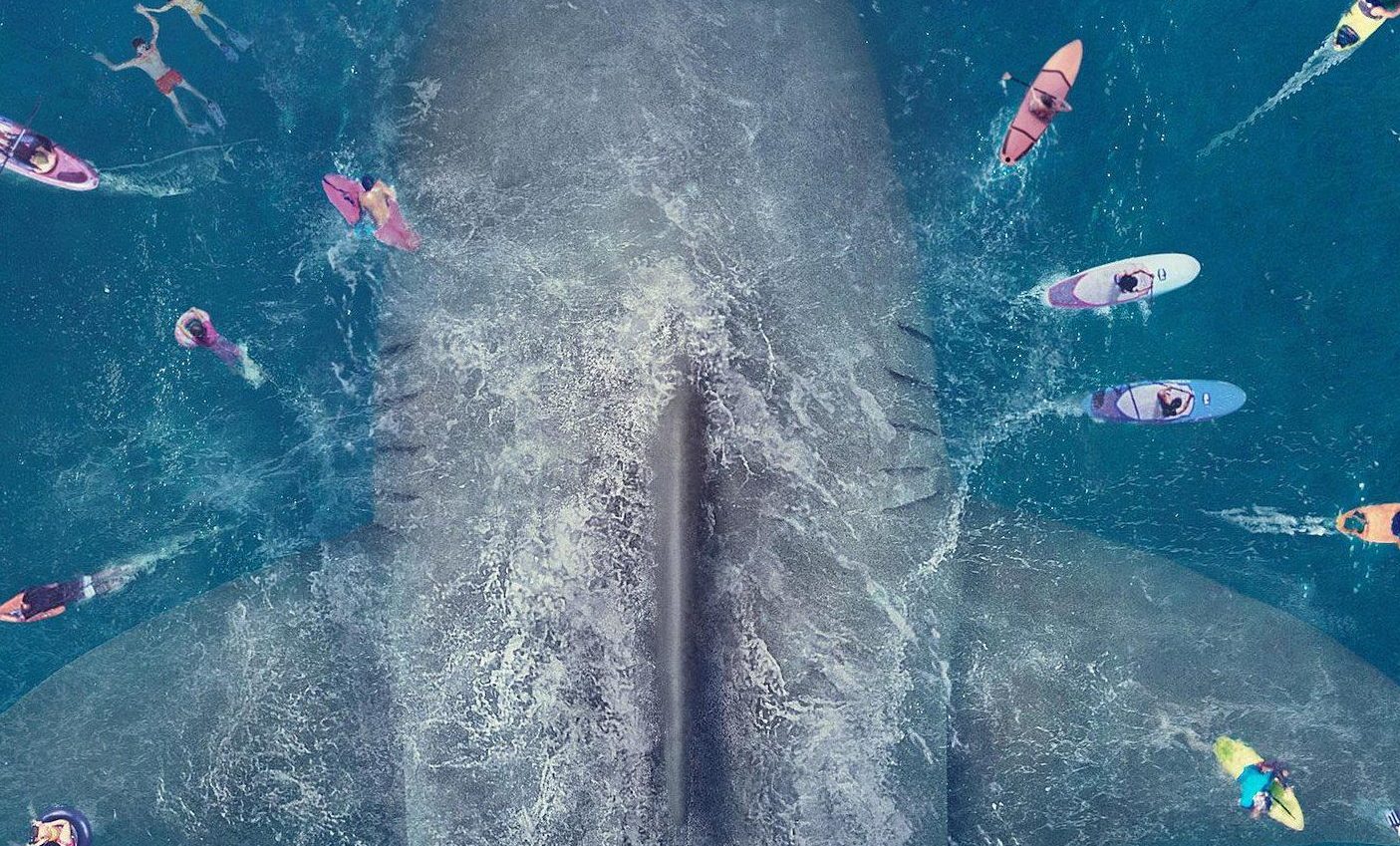 At this point, the billionaire who owns the station tells the scientist and crew, who for some reason include Ruby Rose smouldering her vaguely androgynous way through the complexities of deep sea computer systems, to evacuate, and that he's told the Chinese navy and they'll fix it. He then sneaks off in the middle of the night, having done no such thing, blows up a whale he thinks is the megalodon, and in a very slapsticky sequence gets eaten himself. The megalodon carries on sharking.
The team back aboard the station then twig that the billionaire is an arsehole and that they need to do this shark hunt themselves.
Thankfully, Statham and Co have another boat, two submarines and a recording of whale song, so they are able to lure Meg 2 away from the tourists and into their fiendish trap. Their fiendish trap seems to mostly involve barely functional torpedoes. When the torpedoes inevitably fail, Jason Statham drives a twisty bit of metal poking off his damaged sub through the Megalodon's belly, jams another poison needle in its eye (because apparently a massive gut wound is only a minor inconvenience to a shark), and a bunch of ickle great whites, hammerheads and other more usual sharks spring forth and eat it. The Chinese wedding is able to continue and the dog we all thought got eaten turns out to be fine.
Let's be totally clear about something. This is not a thriller in the same way that Jaws was. There's no sense of suspense or terror. There's a couple of moments where you tense up, but generally its because you can see exactly what's about to happen. It's not scary. It's an action movie with some shark slapstick.  The only real suspense comes when you realise that the directors are going to let anyone but Statham and Li get eaten, so you don't know who is on the menu next.
That being said, I thoroughly enjoyed it. The movie takes itself sooo seriously, which is really funny. The acting is actually quite good given what the cast have to work with. The CGI could be a lot worse. The shark is actually properly huge, unlike in the computer game Stranded Deep, where the megalodon is not much bigger than your standard great white. If you are willing to suspend quite a lot of disbelief and ignore all the massive holes in their sciencey theories, it is a very fun, action-packed movie with some light bits of comedy and genuinely likeable (and some hateable) characters. If you find yourself with 130 minutes of nothing to do, they would not be wasted if you filled the void with this.
10/10 would watch again.
Have you seen it?  What did you think?