For many people, flying is already a nightmare.  For people with endometriosis, there's an added layer of difficulty.  In this multi-part series, "Flying with Endometriosis", I want to talk about some of things we can do to make travel a bit easier.
Happy October!  As I mentioned a few posts back, I'm travelling to the UK this month, so travel is very much on my brain, hence the new series.  I want to do some tips and tricks on making travelling with endometriosis just that little bit easier.
Ensuring that you have the smoothest flight possible starts long before you get on the plane.  Below are some of the things I would recommend doing before you travel.
1) Book the best seat you can afford.  It's hard to pass up on some of the great deals you can get on an economy flight, but let's face it – economy seats on a long-haul flight are just horrible.  This is particularly so if sitting is a difficult position for you.  When I'm in a flare-up, it's the worst possible, as it puts pressure on my back and makes my ovaries very unhappy.  The seats are also very small and there isn't much room in the footwell, so you can't wriggle around to get a better position unless you're very tiny.  At 5'10" (178cm) it's definitely not an option for me.  If you can afford it, consider an upgrade to premium.  You don't get a lot of extra room or recline, but it might just make a difference.  If you can't afford it, do your research on how to nab the best seat in economy.  Seat Guru can help you find the one for your plane.  I'd always say an exit seat is best for the extra legroom, but ensure that you are physically able to assist with the doors in an emergency in you go for that one.  Also utilise your charm and your poor swollen belly to try and get a free upgrade, noting that it is getting much harder.
2) Get travel insurance. Be careful, though – many will not cover pre-existing conditions, so search around for one that does. It is pricey, but it is probably cheaper than the cost of rescheduling your flight and paying for extra accomodation if you can't fly due to a flareup. That being said, the cost for many people may be prohibitive so some people may find that risking it is more financially sound, particularly if they aren't prone to flare-ups or are practised at travelling through them.
3) Rest. In the days leading up to the flight, rest as much as you can so that you have a good healthy baseline to start from. I know I don't get much sleep in economy, and whilst lots of sleep prior isn't going to magically prevent you from being exhausted when you hit the tarmac on the other side, it will help you feel better for longer and strengthen your immune system (planes are germ factories).  If you can, pack the majority of your stuff at least a day ahead of time so that you can use your last day to relax and only worry about the last-minute things like your toothbrush.
4) Get hydrated.  Like this resting tip, this is to help buffer your immune system against the hit it is about to take on the plane.  In addition to being super germy, planes are incredibly dry and it is really hard to take in enough liquid.  Make sure that you are at least starting your journey on the right foot by being as hydrated as possible for at least a few days before you get on the plane.  This will also help you avoid UTIs.  Trust me, you do not want a UTI whilst flying, especially whilst flying long-haul economy.  0/10 would not do again.
5) Avoid triggers.  If you know you are reactive to certain foods or activities, do not eat those foods or engage in those activities prior to flying.  The last thing you want to do is set off a flare-up before you even get on the plane.  I'll be completely nixing onions, garlic, beans, cabbage, alcohol and carbonated drinks from my diet for a week prior to flying, and cutting way down on the sugar and gluten.  I'd also suggest not smashing out a mad core workout prior to your flight – for a few days beforehand you might want to limit yourself to yoga, walking and maybe some gentle weights.
6) Take your medications and vitamins religiously.  Again, it is all about getting your immune system to the best place it can be before you put it on that plane and destroy it. Even if you aren't normally a supplement taker, consider a multivitamin and maybe a cranberry pill (I refer to my earlier point re UTIs) as a pre-flight booster.
7) Plan an itinerary (if you can).  If you are on holiday you want to see and do as much as possible.  If you have at least the broad outline of a plan you can build in rest days.  Last time I was in Europe I was totally healthy, and tried to do heaps every day.  I was utterly exhausted after a few weeks.  I will never do that again, especially now I'm a sicky!  It also allows for a little more flexibility, and, of course, helps you pack sensibly for the activities you are doing.  Speaking of which…
8) Plan a capsule wardrobe.  This is a wardrobe where everything goes with everything else to make multiple outfits out of fewer pieces, so you can reduce the weight of your suitcase (a very good thing when you have endo!).  It also forces you to really think about what you are bringing, which will hopefully encourage you to choose only comfy, multi-functional pieces that will see you both through whatever your holiday activity is as well as a flareup or rest day.
9) Treat yo'self.  The day before you travel (or the day of, if you are flying later in the day) have a nice bath, if you have a bathtub.  Do all the luxurious skin things like a face mask, shaving, washing your hair etc.  It will not only help you feel super nice on the plane and help you look spiffy when you reach your destination, it will also allow your muscles, and that pesky pelvis, to relax.  Your poor body is about to crammed into a pressurised metal tube on a small seat next to a bunch of randoms.  It deserves a little love.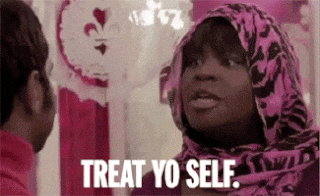 So, those are my pre-flight must-dos.  Any I've missed?  Do you have a pre-flight ritual that helps your body deal with the stresses of long flights?  Share in the comments!