Massive trigger warning for pregnancy, infertility.
I've already explained the exciting phenomenon of endo belly in an earlier post, where you swell up for no good reason and look like you're about to give birth.  In the image at the top of the article, you can see my poor stretched out tum during a particularly bad episode of endo belly.  Normally I'm a relatively slender size 10.  Not so during a flare-up.  Recently I've had two unrelated people just assume I was pregnant, and my endo belly wasn't even that bad at the time.  You can see why people assume it at the height of a flare, though – there is a very distinct, almost pointy shape to the belly that is clearly not just weight gain, and it is very localised.  The rest of me looks as it always does.  It can really suck for many people with endo, particularly those who feel strongly called to motherhood, because endometriosis can have a horrible impact on fertility.  Endo belly is a very cruel, sad mockery of that.
On a lighter but still extremely annoying note, it makes it very hard to dress.  Clothes that fit you some days of the week are suddenly two sizes two small the rest of the week.  It's a pain in the rear – many of us have work to go to wear pyjamas are not considered appropriate (I'm just trying to imagine a magistrate's face if I asked to do an appearance in pjs!) and the rest of us would just like to be able to get dressed.
So I want to share some tips and some favourite brands/clothing items both for everyday wear and for work.
I apologise in advance: this is not a particularly gender neutral article.  I am not a designer or even a particularly fashion-forward person and I don't know enough about men's bodies and clothes to give tips.  If any men with endo would like to give me some hints, or even write a post for this blog, I would welcome you most warmly.
Shop Maternity
Yes, given what I've said above this is not going to be an easy tip for everyone because it really just rubs it in that you aren't pregnant and that you're wearing maternity clothes because your own body hates you.  For those who don't care so much about the pregnancy side of things, however, the maternity section can be a really good option.  It offers sizes that accommodate a range of swelling, from minor to enormous, and because it is specifically designed for women with a bump, it can offer some really stylish, comfortable options, and comfort really is super important.
Another great thing about maternity clothes is that they cradle and support the bump without putting pressure on it, which tends to make everything worse.
The downside is, of course, that it does nothing to disguise the bump, if that's your preference.  It can also take a little getting used to.  It's a lovely thing to be shopping for maternity clothes when are pregnant, I assume, but it can feel strange and humiliating when you aren't, not least because of the assumptions and explanations if you end up in conversation with a stranger there.
Avoid Shapewear
Beginners to the bump may think the best way to deal with it is to force it to comply by squeezing it into shapewear.  That might slim it out, but you are probably putting yourself through untold agony for minimal gain.  When you have endo belly, pressure over the pelvis is restricting blood flow and pressing on spots that are already inflamed and irritated, so the most likely outcome of shapewear is just pain.
If you need to squeeze yourself into tights or similar for work, go for something like these Bonds Comfy Tops.  Yes, they say slimming, but they are some of the least restrictive tights I have found and tend to sit comfortably over the pelvis without squishing it.  Alternatively, get some soft comfy leggings and pretend they are tights by hiding their footlessness in boots.
Embrace the Maxi
A shapeless maxi was something I would once have turned my nose up at.  Now, I love them.  Loose and flowing, they are perfect for avoiding the summer sweats, or for snuggling up into in winter.  The key to making them look fun rather than like you are practically dying from pain and this was literally the only thing you could find is accessorising.  This great Popsugar video shows 7 summery ways to dress up a shapeless maxi that shouldn't take too much money or effort, but take you from swamp creature (my standard morning look) to chic (never my standard look).
This article from College Fashion has some cute ideas for winter.  Short girls are often told they aren't allowed to wear maxis because you will look short (which you are, so, shock) and that their only goal in life should be to look tall and slender (it should not be).  My high-fashion tip is just embrace being short and stuff the height-shamers, but if it is a concern for you, try this article by Petite Dressing and this one by Coffee Beans and Bobby Pins for some tips on how to style a maxi without looking like you're being swallowed up by it.
Search for Elastic Waists
More and more retailers are realising that women want comfort, regardless of their size and shape.  One of my favourite Australian brands, Review, comes out with a couple of elastic-waisted skirts a year, which I live for.  Their current offering is this pretty grey number.
Past options have included black and navy.  I'm hoping they give us a lot more of these.  Thankfully, Review has a really good rewards programme and great sale, so endo-havers on a budget may still be able to snap up some nice pieces.
Trouser fans may enjoy this offering from Reformation, but beware of shipping costs and all prices being displayed in those wacky US dollars.
Land's End offers a more conservative, work-friendly trouser for those of us in traditional office jobs.  I've ordered a couple of swimsuits from Land's End and they are lovely quality, so I'd imagine their trousers are pretty spiffy too.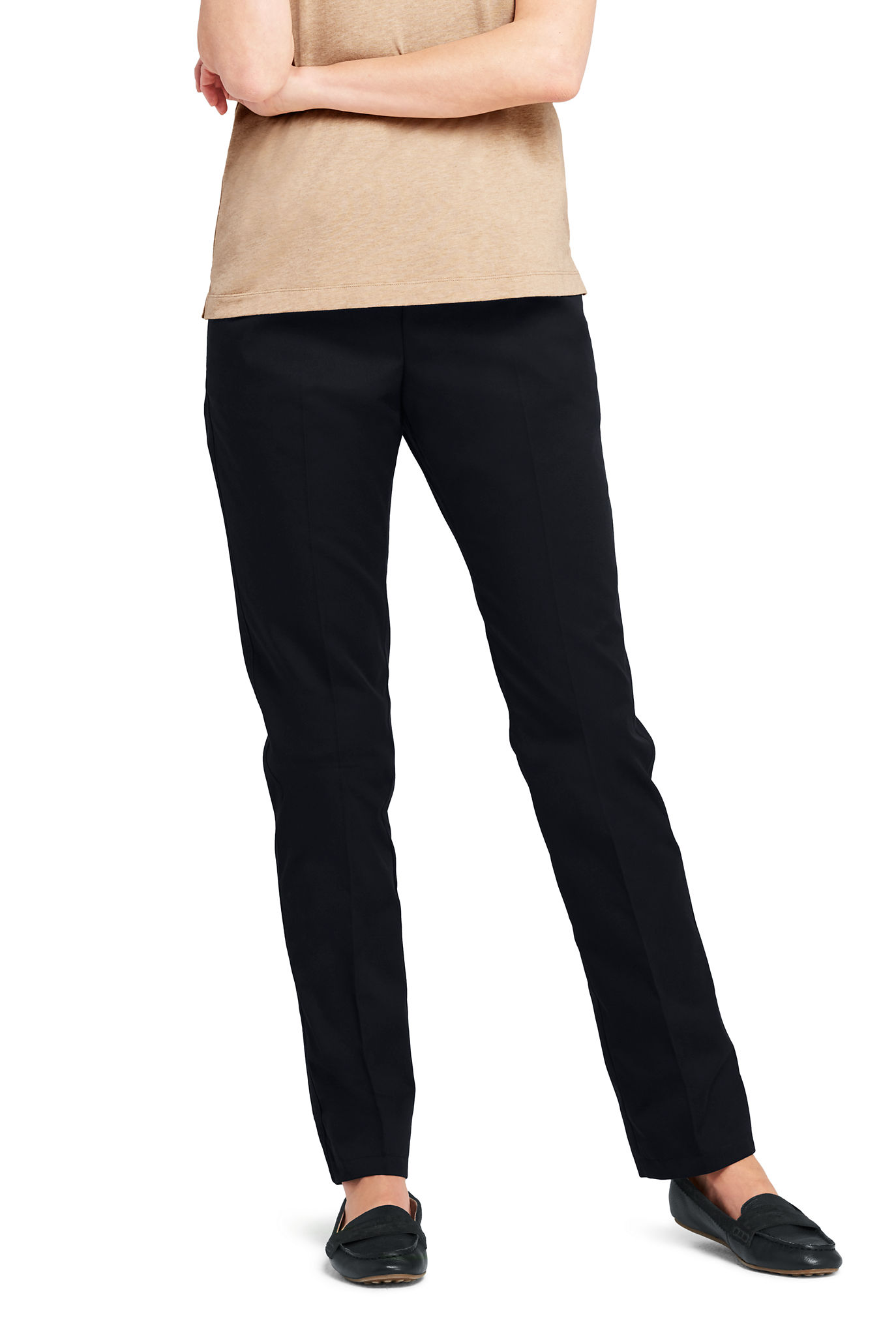 There are, of course, plenty of more budget-friendly options too, including these truly bizarre but very colourful ASOS culottes.
Target has a whole range of nice options, but won't let me import any of their pictures, so I'll just link you.  This skirt is elastic-waisted and office appropriate, and costs only $25.  Somehow they make these joggers look office-appropriate, but that might just be clever photography.   They even have a pencil skirt for $30, and are trying out some bizarre trend called "Treggings" (trouser-leggings), although I'd be wary of these compressing the pelvis.
Check-out Menswear
If you are a man with endometriosis, you're probably rolling your eyes at this super obvious tip, but for women with endo, it may not be territory you've explored before.  Menswear is generally cheaper, stronger, has more pockets and is built far more for comfort that clothes aimed at women.  It's a great source of looser, lower-riding jeans and hoodies to snuggle up in.  That being said, don't discount styling menswear for more than just staying home: some women love it for work, going out, and even formalwear.
I hope this gives some hope for people with endo who still love their fashion and hate being relegated to pyjamas as much as I do.  Don't get my wrong, I love my pjs dearly, but sometimes I do actually want to go out into society and not get mocked.
What are your favourite pieces and brands for when you have endo belly?  Any tips I've missed?